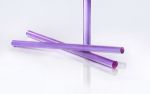 SCHOTT delivers laser glass coated with a high laser damage threshold, which is relevant for the development of next-generation laser technology in various fields.


The international technology group and specialty glass expert SCHOTT is now offering a wide range of coated materials for laser applications. Thanks to improvements of the coating capabilities at its site in Yverdon-les-Bains, Switzerland, the company is able to offer improved coated active glass devices as well as passive components made from materials such as SCHOTT N-BK7® and FK5 optical glasses, as well as fused silica, filter glass, and ZERODUR® glass-ceramic. Now, a coating is available with a higher laser damage threshold, which is relevant for the development of next-generation laser technology in various fields. SCHOTT is displaying its products at Photonics West (Booth #1601).
"We have been working diligently to make our laser components fit for use in large, demanding projects and a wide range of applications," says Philippe Younès, Director of Sales for Western Europe for SCHOTT Advanced Optics. New SPIE test results confirm the improved performance of these components.
One of the decisive factors is the laser damage threshold which must be high enough to allow for successful high-power applications that rely on a very high repetition rate of high-energy beams in a very short period of time. SCHOTT's excellent material processing and polishing skills as well as its improved high quality dielectric coating technology make the materials the most resistant against laser induced damage. Furthermore new optical coating designs allow for broadband high reflection and dispersion control needed for ultrashort pulse, high-power applications. "While laser glass is produced at the company's US-site in Duryea, Pennsylvania, the post-processing and coating steps are carried out at our facility in Yverdon, Switzerland", said Younès.
Improved material for medical applications
In addition, SCHOTT expanded its portfolio with the 'eye-safe' phosphate laser glass LG940 for use in medical applications such as cosmetic laser treatments in dermatology. To achieve this, the company successfully improved its competency in material processing for short pulse lasers. LG940 laser glass emits at an eye-safe infrared wavelength around 1.54 μm. Since it works in a short pulse regime, it makes new dermatological treatment methods possible that otherwise could not be applied. "We continuously improve our material and its performance so that we enable our customers to employ the highest technological standards," explained Younes. "New applications in ophthalmic optics are now also possible."
Wide range of passive materials for laser applications
SCHOTT produces a range of components for improving lasing efficiencies and powers. These components such as mirrors, polarizers, and beam splitters, are made of passive materials such as fused silica, optical glass (SCHOTT N-BK7®, FK5), filter glass or ZERODUR® glass-ceramic. All materials offer extremely high accuracy and cater to demands for the highest quality. Passive laser glass can, for example, be used as laser pumping cavity filters, which absorb undesired pumping light in the UV range, preventing solarization of the laser glass.