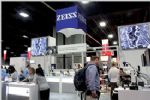 Carl Zeiss Microscopy, a leading provider of microscopy solutions for a variety of research, clinical and industrial applications, launched a range of newly developed products and technologies at Neuroscience 2011 in Washington D.C. from November 13-16. This was also a chance for customers and colleagues to gain more information about Carl Zeiss Microscopy, the unified company that resulted from the integration of Carl Zeiss MicroImaging and Carl Zeiss NTS.
The new products that Carl Zeiss Microscopy introduced include their newly expanded ZEN software, now able to control all light microscopy imaging systems to streamline research and training needs. They were also showing new Correlative Microscopy, which combines the ultraresolution of electron microscopy with the specific labelling capabilities of fluorescence laser scanning confocal microscopy for a turn-key solution, called Shuttle and Find.
Other new products that Carl Zeiss was showing are the Axio Zoom.V16 microscope, which combines the low magnification and wide field view of ZEISS stereomicroscopes with the high numerical aperture and excellent image quality of ZEISS compound microscopes. The AxioVert.A1 inverted routine microscope sets a new standard in quality for entry level, inverted microscopes with Hoffman Modulation Contrast, Differential Interference Contrast, PlasDIC and fluorescence capabilities in one cost effective solution.
Carl Zeiss also gave visitors to their booth the opportunity to demo their broad portfolio of technologies, including the Field Emission Scanning Electron Microscope, Superresolution, Multiphoton and Laser Scanning Confocal, Spinning Disk Confocal and Structured Illumination. Visitors had their picture taken in Carl Zeiss' photo booth in honor of their Moments campaign.