When fashion, design and precision join forces, the outcome is bound to be special. Together with the Australian frame maker AM Eyewear and fashion photographer Pierre Toussaint the ZEISS Sunlens Business Unit in Italy collaborates on a collection of high-fashion sunglasses.
When Pierre Toussaint first had the idea to create a range of sunglasses to raise money for eye research, having worked with the brand previously, he immediately thought of Australian AM Eyewear as the ideal partner to aid in the design and manufacture of the collection. Together with ZEISS the SAINT / AM EYEWEAR collaboration was created. The motifs for this charity campaign, featuring model Anja Konstantinova, were shot with ZEISS lenses.
A limited edition of three unique and feminine shapes named after the idyllic locations of St Bart, St. Tropez and St. Lucia have been created and are each available in multiple color ways. With the backing of numerous high-profile celebrities and models, a contribution of all lenses for this collaboration and a further 10% of all sales being donated to Optometry Giving Sight, ZEISS and the SAINT / AM EYEWEAR collaboration hope to provide much needed support to the millions of people around the world who are needlessly blind or vision impaired – simply because they can't access an eye exam and corrective eyewear.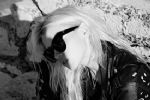 AM Eyewear, photographer Pierre Toussaint and ZEISS collaborate on a collection of sunglasses to support Optometry Giving Sight.