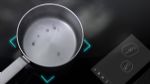 A transparent glass-ceramic cooktop panels enables multi-color LED displays in future cooking devices – Photo: SCHOTT AG
How the transparent glass-ceramic CERAN CLEARTRANS® from SCHOTT paves the way for new design trends and networked cooking
Bright colors, large surfaces, way paved for networking. The latest kitchen trends should also be reflected in the design of a cooktop panel. At least, manufacturer SCHOTT is convinced of this and is demonstrating that the most important place for creative cooking no longer has to be black at IFA 2016 in Berlin. This is made possible by a special version of SCHOTT CERAN® glass-ceramic. It is transparent and now being turned into a rather innovative surface by using color printing or in combination with LED displays located underneath it.
The new color concepts with resounding names like CLEAR flamingo, CLEAR caja grey or CLEAR zara grey enable this cooktop panel to seamlessly fit into the design concept of a kitchen. Colored layers on the underside meet with the different decorative colors "on top." Between them is a transparent glass-ceramic. This creates individual designs in warm or cool shades that give it that special look: stainless steel, a matt finish or 3-D effects. More than 5,000 different combinations besides classic black can now be realized. After all, a dream kitchen looks different for each and every one of us.
Glass-ceramic brings every kitchen into the future
CERAN CLEARTRANS®, that is what the new design cooktop panel is called, also supports efforts to create smart homes. Small or large LED displays can be attached underneath the glass-ceramic in its original transparent state that can display information for the cook. "One obvious possibility would be for you to be able to read the recipes on the display while you are cooking. But many other applications are conceivable," says Marketing Manager Björn Weller in explaining the idea behind it. The corresponding area of the display is omitted during printing of the glass-ceramic and remains transparent. "We thus give manufacturers even more possibilities to create a kitchen down to the last detail," Weller adds.
The winners and finalists in the CERAN® Design Awards provided an excerpt of what is possible in terms of design.