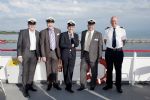 End of June, futronic GmbH celebrated its 40th anniversary with a special gala on the MS Graf Zeppelin. Around 250 guests were present on board to convey their best wishes and join in the festivities. Customers, shareholders, business associates and friends from all over the world turned up to pay tribute. Among those offering their congratulations were numerous representatives of regional industry and politics, including Bruno Walter, Mayor of Tettnang.
It was futronic´s staff who were the centre of attention, however. It was their party and it was to them that thanks were especially due. As Wolfgang Lachmann and Michael Preuss emphasised in their joint keynote address, they are the soul of the company and their contribution to its successful development is vital. The two Managing Directors found suitably witty words for their brief account of the "futronic adventure story", which has also taken in a few stormy periods and all kinds of adversities. "Any success story is inevitably the story of people with courage and ideas", said Preuss in conclusion. "And the story of futronic is no exception: employees with innovative ideas and customers and partners with courage and faith in their abilities", Lachmann continued. The two "captains" simultaneously urged those present to keep up this faith in the future as the basis for fruitful cooperation.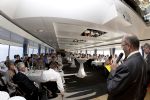 250 smiling guests on a warm summer´s night
Tettnang mayor Bruno Walter was likewise keen not to waste his words. He spoke of his pride at having a company like futronic in his town. He promised to do everything in his power to ensure that the company can continue to develop efficiently and successfully in the coming years. His tribute marked the end of the official programme before the buffet was declared open and the informal part began. With 250 smiling guests on board, the MS Graf Zeppelin sailed for four hours through the warm summer´s night past Friedrichshafen, Romanshorn, Konstanz and Mainau. It was not until way after midnight that the last of the passengers alighted again in Friedrichshafen, the boat´s home port.
An order from the food processing industry marked the beginning
The foundation for futronic GmbH was laid by Gerhard Funk and his partners Günther Scharpf and Horst Dieter Reinsch in a back room in Tettnang in 1972. It all began with an order from the food processing sector. It wasn´t long before projects also followed from customers in other industries such as mechanical engineering or medical, lab and process technology. Even teaching aids used to be part of the futronic portfolio. In the spring of 1978, futronic secured its first contract to design a control system for glass machines from Oberland Glas in Bad Wurzach. The MP-ST went productive only four months later. This machine marked the entry of computer technology into glass production; transistor logic and relays were no longer state of the art. From then on, the company´s success story ran its course. Michael Preuss and Wolfgang Lachmann were appointed joint Managing Directors eight years ago in 2004. Today, futronic is one of the world´s top suppliers in the field of complex automation and drive solutions for the glass container industry.