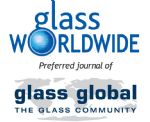 Boasting an extensive series of exclusive interviews with key industry figureheads from across the global glass community, the July/August issue of Glass Worldwide is now available.
Preferred journal of Glass Global, you can download free selected articles and order the full paper and digital issues at www.glassworldwide.co.uk or by emailing subs@glassworldwide.co.uk
With highlights such as regional focuses on Poland and South East Asia, a diverse series of technical articles and an expanded news section including a tribute to the late CK Somany, this issue features the following broad cross-section of content to assist with all areas of production and processing:
ON THE SPOT:
Javier Garcia, Operations Director for Guardian Glass in Europe, discusses the company's extensive float glass operations in Luxembourg.
FACTORY SPOTLIGHT:
An detailed focus on Verallia's operations and recent major investment in France.
PERSONALITY PROFILE:
Junming (Jimmy) Wang, recently named Managing Director at Fuyao Glass Illinois Inc, speaks exclusively about his glass industry career, first in China and now in the USA.
FOCUS ON ASEAN:
Asia Brewery: Erwin Banquil discusses his role as Vice President for the Packaging Division.
Bangkok Glass: Pavin Bhirom Bhakdi, President, explains the company's diversification into float glass manufacturing.
Kibing: Senior management at China's largest glass manufacturer detail recent expansion into Malaysia.
PT Muliaglass: Deputy COO, Johan Dharmawan talks about the current performance and prospects of this influential manufacturer of float and container glassware.
AFGM 40th Anniversary: As official AFGM journal, we preview the 41st ASEAN Glass Conference and interview two of the organisation's best known personalities, Peter Javier and Leslie Struys.
Focus on Vietnam: flat and hollow glass market report.
Focus on Indonesia: Tableware sector spotlight.
FOCUS ON POLAND:
Market overview: Detailed flat and hollow glass report from the Polish Glass Manufacturers Federation.
Factory Spotlight on Press Glass, Europe's largest independent flat glass processing organisation.
TECHNOLOGY TOPICS:
Technical articles covering handling, melting, power control, process monitoring, processing, quality control, and an ATIV paper on mathematical modelling.
SUPPLIER FOCUSES:
Topical profiles covering the activities of AMETEK Land, Cugher, Haldor Topsoe and Siemens.
INDUSTRY EVENTS:

Previews and reviews of GlassBuild, GlassPrint, GlassTrend Seminar, Hotbels Glass Seminar, Iran Glass and the International Conference on Advances in Glass Science and Technology.
www.glassworldwide.co.uk