With editorial covering 30 different countries, the November/December issue of Glass Worldwide features a truly international blend of exclusive profiles, regional focuses, technical articles, news and event coverage from throughout the flat, hollow and speciality sectors.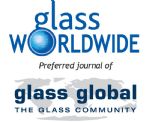 Preferred journal of Glass Global, you can download free selected articles and order the full paper and digital issues at www.glassworldwide.co.uk or by emailing subs@glassworldwide.co.uk
Including topical highlights such as spotlights on Egypt, Germany, India and Iran, as well as interviews with senior personnel from Ardagh, Encirc, MEG, O-I, Saint-Gobain and Verallia, this issue features the following broad cross-section of content to assist with all areas of production and processing:
PERSONALITY PROFILES:
Saint-Gobain: Patrick Dupin, President of the company's Flat Glass Division, spoke to Glass Worldwide about his career highlights, key responsibilities and goals for the global business.
Ardagh Glass: Ralph Versluis, Production Technology Manager, describes overseeing the alignment of production technology and developments across the group's 20 factories throughout Europe.
FACTORY SPOTLIGHT:
Paulo Pinto, Regional Managing Director, outlines Verallia's expectations and current performances in Portugal and Spain.
FOCUS ON GERMANY:
BV Glas: Market report covering the German flat, packaging, fibre and specialty glass sectors.
O-I: Plant Manager, Peter Stahlhut details recent investment and development initiatives at O-I's Rinteln and Holzminden factories.
FOCUS ON IRAN:
Market overview: Despite the current booming production and export of hollow and float glass from Iran, Hossein Zojaji, head of the Iran Glass and Crystal Producers Association, suggests the real growth potential still lies in the future.
FOCUS ON INDIA:
Market overview: Developments in the Indian glass packaging sector.
FOCUS ON EGYPT:
Market overview: The container and flat glass industries in Egypt, one of the Middle East and Africa's most important production centres.
Middle East Glass: Mirko Muller, Chief Manufacturing Officer, talks exclusively about the company's emergence as the biggest glass container producer in the MENA region.
SPOTLIGHT: PHOENIX AWARD
A review of the recent banquet to honour the achievements of James O'Callaghan of Eckersley O'Callaghan, the first UK engineer to receive the prestigious Phoenix Award since Sir Alastair Pilkington, inventor of the float process in 1981.
OPINION:
Eurotherm's René Meuleman sees important signs of change within the glass industry's approach to manufacturing innovation.
TECHNOLOGY TOPICS:
15 technical articles covering decoration, digitalisation, forming, inspection, insulated glazing, integration of Industry 4.0 technology, melting, process control and ware handling.
SUPPLIER FOCUSES:
Company profiles of CelSian Glass & Solar, Johnson Matthey and SORG Anyang, as well as the launch of the 4x4.0 partnership, an initiative from Triulzi, Cugher, Mappi and Iocco.
ASSOCIATIONS:
Topical contributions from Glass for Europe and International Partners in Glass Research (IPGR) about how major new developments within their organisations will affect members from the flat and hollow sectors as well as the wider glass industry.
INDUSTRY EVENTS:
Extensive round-up of the busy autumn event season, including reviews of the 41st ASEAN Glass Conference, Gulf Glass, Vitrum, CelSian-NCNG Glass Technology training course and the 14th International Seminar on Furnace Design – Operation and Process Simulation, plus a comprehensively updated 2018 events calendar.