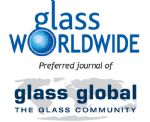 Expiring on 31 July, you can still take advantage of the extended GlassPrint 2017 early-bird registration offer before the prices rise by 25%! With early bird registrations already at a record level, this seventh edition of GlassPrint is set to be the biggest and best yet, offering attendees invaluable information on the latest trends and developments covering the decoration of all types of glass.
FULL PROGRAMME ANNOUNCED
Sponsored by Glass Global and taking place on 29-30 November in Düsseldorf, Germany, the full conference programme and schedule is now available at http://glassprint.org/programme. In addition to keynote presentations from Europe's major flat and hollow glass associations, highlights include:
How to verify the compliance to food contact and REACH Regulations (Stazione Sperimentale del Vetro / SSV)
3D-Printing of glass now possible (KIT - Karlsruhe Institute of Technology)
Digital printing opens a new way of marketing glass bottles (Curvink / TILL)
Flat and hollow glass screen printing market: key industry trends, technologies and geographic markets etc. (Smithers Pira)
Digital glass gilding technology for decoration (Heraeus)
Achieving perfect results printing directly on bottles with a scalable and easy to use industrial system for screen printing (Gallus)
Decoration of architectural glass using inkjet printing (Tiger Coatings)
How to benefit from Cloud Computing and Industry 4.0 as a glass printer (KBA Kammann)
Screen printing – the importance of a perfect screen (Grunig/SignTronic)
The value of glass decoration (FERRO)
Screen printing of hollow and flat glass: Latest developments, advantages of organic inks, effects for the beverage industry (Marabu)
Atmospheric pressure plasma for patterned inkjet printing and coating on glass (University of Applied Sciences Western Switzerland)
Ink development which can be tempered up to 1000°C…. compared with other ceramic inks can be printed with a resolution of 1440 dpi (Ormo Print)
Novel transparent inks for highly efficient light diffuser glass devices (EPTAINKS in co-operation with Saint Gobain)
Is the glass world still a "glass decorated world"… or is it more? Glass is a high-tech functional part of the process (SAATI)
REGISTER NOW at http://glassprint.org/delegates/registrations
Delegates registering before the extended deadline of 31 July will qualify for the discounted early-bird registration fee of only €450, including full access to the conference programme and accompanying tabletop exhibition, as well as lunches and networking dinner. On 1 August, delegate registration rises to the normal price of €595.
FURTHER INFORMATION:
Tel: + 44 1342 315032
Email: sales@glassworldwide.co.uk
Web: www.glassworldwide.co.uk