Glasstec Dusseldorf 23-26 October 2012 was a great success for manufacturer of Thermobar and Thermoflex warm edge spacers, Thermoseal Group.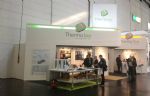 Mark Hickox, Sales Director at Thermoseal Group comments: "glasstec proved to be an excellent platform for us to introduce Thermobar warm edge spacer onto the European market. It was also a good opportunity for us to show our new product –Thermoflex, which is our new pre-desiccated elastomeric foam spacer due to go into production in the first quarter of 2013.
"The show was buzzing with visitors and we saw much interest in our warm edge spacers, as well as the new warm edge bending machine that we demonstrated on our stand. We had a great position at the exhibition with a constant flow of traffic which, in addition to on-the-spot sales of the warm edge bender, we now have a large number of promising leads to follow up from agents, distributors, sealed unit manufacturers and window installers from all around the world.
"We are already looking to book our stand and position for Glasstec 2014 but for now, we'd like to thank all of the people showing interest in our products and look forward to speaking to them."
To find out about Thermoseal Group Limited and its comprehensive range of insulated glass components and machinery for glazing manufacture, call + 44 (0)121 331 3950 or visit www.thermosealgroup.com for further information.
1) Thermoseal Group specialises in consumable components for the insulated glass and double glazing industries. Whether a sealed unit manufacturer, a window fabricator or a double glazing company, Thermoseal is the one-stop-shop for over 1,500 insulated glass sealed unit components and sealed unit manufacturing machinery. Components include: Spacer Bar and Accessories (Aluminium, Warm Edge and Steel); Gas filling fittings and machinery, Georgian Bar and Accessories; Molecular Sieve Desiccant; Decorative Lead, Bevels, Films and Accessories, as well as Sealants and Integrated Blinds (residential and commercial). Glass machinery includes: Gas filling machines, hot melt extruders, edge deletion machines, production lines and most other equipment for sealed unit manufacturing.
2) Thermoseal Group is a leading UK manufacturer of warm edge spacer bars including: Thermobar (with and without gas barrier tape for gas filling) is available in Black, Grey and White with all standard and gas fittings. Thermoflex will be available early 2013.