Previously, bespoke coloured Woodgrain Georgian bar had to be mitre-cut to achieve a high quality and uniform Georgian intersection. The NEW Woodgrain engraved cruciform's, designed and manufactured by Thermoseal Group, make it easier to construct a Woodgrain Georgian grille without the difficulties of cutting a perfect mitre finish.
Woodgrain cruciform's are available in size 18 x 8 mm and can be colour-matched to any foiled colour on request.
Thermoseal Group's product manager, Geoff Busby says: "As well as manufacturing our own components, we have our own Georgian fabrication department dedicated to working with customers to achieve the ideal pattern finish. It is with this knowledge and the use of our innovation centre that we are working on a range of new products to meet customer requirements.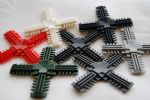 "We have recently invested in additional staff with expertise in injection moulding and purchased additional machinery and tooling to develop our extensive Georgian offering. Just last year we introduced the new Combi-Cross mix-n-match Georgian cruciform which is proving very popular with customers. Watch this space for further developments.
The standard colours of Woodgrain Georgian cruciforms are White and Cream. Colour-matching to any foiled colour including the Classic and Prestige ranges from Renolit are available on request.