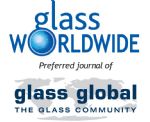 Preferred journal of Glass Global, the January/February issue of Glass Worldwide magazine is now available.
With 40 articles from 15 different countries, a fascinating combination of exclusive regional focuses, technical articles, profiles, news and event coverage ensures a broad cross-section of content to assist with all areas of production and processing, whatever your area of glassmaking expertise.
To download free selected articles and to receive the full paper and digital copies with the following content, visit www.glassworldwide.co.uk or email subs@glassworldwide.co.uk

ON THE SPOT: KEVIN BAIRD
Guardian Glass' President and CEO spoke exclusively to Glass Worldwide about the company's recent investment and restructuring.
SPOTLIGHT: GERRESHEIMER
A detailed focus on Gerresheimer's German operations for manufacturing bottles, jars, ampoules and other primary packaging products.
FOCUS ON NORTH AMERICA 2017:
Annual supplement rounding-up the North American activities of Ardagh, Fuyao and Schott + contributions from the GMIC and GPI.
BUYERS GUIDE:
A comprehensive guide to Process Control and Inspection of all types of glass.
FOCUS ON SOUTH EAST ASIA (OFFICIAL AFGM JOURNAL):
A series of exclusive interviews with senior personnel from leading glassmakers in the region, including:
• Factory Spotlight on L.Lighting.
• Indonesian initiative to lower gas prices for the benefit of flat and hollow glassmakers.
• 40th ASEAN Glass Conference review.
OPINIONS:
• Patrick Dupin, Saint-Gobain's President of the Flat Glass Sector, discusses meeting the challenge of industrial and service integration.
• Eurotherm's René Meuleman looks at how the glass industry needs to adapt… and how quickly it should be done!
FOCUS ON THE NETHERLANDS:
Exclusive market reports from domestic glass associations VNG and GBO covering flat and hollow activities in the Netherlands.
SPOTLIGHT: PHOENIX AWARDS
Paul Hutchinson, 2017 Chairperson of the Phoenix Award Committee, spoke to Glass Worldwide about the committee, its objectives and his pride at co-ordinating this year's Glass Person of the Year Award.
FOCUS ON GCC:
An overview of the container and flat glass industries in Kuwait, Bahrain, Oman and Qatar, as well as Lebanon.
TECHNOLOGY TOPICS:
Technical articles covering batch plant, forming, and refractories + an ATIV paper about chemically strengthened glass.
ASSOCIATION COLUMNS:
Topical contributions from BV Glas and Glass for Europe covering issues affecting their members in the hollow and flat sectors.
www.glassworldwide.co.uk