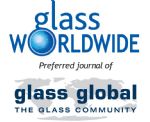 Preferred journal of Glass Global, the
largest-ever
January/February issue of Glass Worldwide is now available.
In addition to the latest industry news, 40 articles include seven exclusive interviews with industry figureheads, the latest technical information, market analysis, event coverage and opinions from throughout the hollow and flat sectors.
This issue also introduces Glass Worldwide readers to Glass Global's new online glass study and glass factory database, and reviews the record-breaking GlassPrint 2015 event.
To receive a paper and digital copy featuring the following contents, subscribe now at www.glassworldwide.co.uk or email subs@glassworldwide.co.uk
'ON THE SPOT' INTERVIEWS:
Robert Bautista of the Glass Manufacturers' Association of the Philippines talks exclusively to Glass Worldwide about the flat and hollow markets in South East Asia, the activities of Asia Brewery and the recent 39th ASEAN Conference.
Anne-Jans Faber, Chairman of GlassTrend, announces the appointment of Glass Worldwide as new preferred journal and details the activities of this consortium of hollow and flat experts.
ANNUAL FOCUS ON NORTH AMERICA:
Exclusive interviews with industry figureheads provide a unique overview of the different sectors in North America:
Steve Weiser, head of process improvement at O-I and President of the Glass Manufacturing Industry Council.
Rick Zoulek, Guardian's Vice President of Glass for the Americas.
Lynn Bragg, President of the Glass Packaging Institute.
Alan McLenaghan, CEO of SAGE Electrochromics.
FACTORY SPOTLIGHT:
An exclusive visit to Ardagh's plant in Scotland to learn more about the recent £15 million pound investment project.
TECHNOLOGY TOPICS:
Technical articles covering batch plant, forming and melting.
BUYERS GUIDE:
15 technical articles covering Process Control & Inspection of all types of glass.
SUPPLIER FOCUSES:
Updates on the activities of leading suppliers including BDF, CelSian, Henry Teichmann, Neptun and Quantum Engineered Products.
ASSOCIATION COLUMNS:
As preferred journal of FEVE and Glass Alliance Europe, Glass Worldwide rounds-up their recent activities affecting glassmakers throughout the world.
EVENTS:
Reviews and previews of industry events as well as a comprehensively updated diary of forthcoming events in 2016.