The May/June 2012 issue has been published of Glass Worldwide - the preferred journal of Glass Global.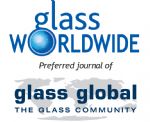 In addition to an extended 18-page industry news section, this bumper issue presents flat and hollow glassmakers with 36 articles covering the latest technological innovations, industry events, trends and opinions.
If you don't currently receive your own copy, you are missing out on the following content in this issue:
On the Spot:
Exclusive interviews with:
* Joseph Grewe, President and CEO of Verallia North America and Chairman of the Glass Packaging Institute.
* Dr Martin H Goller, Senior Materials Engineer at Corning and Advisory Board member of the Conference on Glass Problems.
Opinion:
US Ambassador to Finland, Bruce J Oreck discusses energy issues affecting architectural glass.
Personality Profile:
Exclusive focus on Peter Javier, Secretary General of the ASEAN Federation of Glass Manufacturers (AFGM).
Focus on Russia:
Featuring a preview of Mir Stekla 2012, an exclusive Russian glass industry market report and a profile of the MF Consulting consortium.
Factory Spotlight:
Exclusive article on Allied Glass Containers.
Technology Topics:
Technical articles covering glass in architecture, annealing and tempering, furnace design, flat and hollow glass printing, combustion efficiency, glass façades, melting technology and quality control.
Buyers Guide:
8 articles providing a unique guide to the handling of flat and hollow glass.
ATIV Papers:
Exclusive articles covering:
* 'The Directive on industrial emissions' by Guy Tackels of the Glass Alliance Europe (formerly CPIV).
* 'Energy savings beyond melting' by Sven-Roger Kahl, Glass Technology Manager at the Ardagh Group.
Association Columns:
FEVE and Glass for Europe discuss the latest energy efficiency and recycling issues affecting the flat and hollow glass sectors.
Events:
Previews of the 11th ESG Conference, 86th DGG annual meeting, ICCG9, Intersolar Europe, Furnace Solutions 7, Glass South America, World Soda Ash Conference and the British Glass Conference, as well as a diary of forthcoming events in 2012-13.
To subscribe now, please visit www.glassworldwide.co.uk or email subs@glassworldwide.co.uk