New Heritage Perma Led from Thermoseal Group is perfect for decorating windows to create designs in keeping with historic and older buildings.
Heritage lead is a traditional standard flat lead with raised ridges on each edge. Initially available in 9mm and sold in boxes of six 40 metre reels, additional sizes are also in development for the future.
Having been manufactured for over 30 years, Thermoseal Group Ltd purchased Perma Led in 1999 and adopted its premium quality manufacturing machinery, staff and processes. This became the first in the Group's range of own-manufactured glazing components.
Mark Hickox, Sales Director at Thermoseal Group, says "As well as investing heavily in the development of Thermobar, Thermoflex, and many other components for the insulated glass industry, we are continuing to develop our premium quality Perma Led range.
"The consistent high quality of Perma Led makes it favourable to our customers and this new addition to the range provides even more choice for manufacturers. Heritage Perma Led is a great solution for customers who need to create a vintage look, or re-create the original feel of an older building."
The full range of Perma Led adhesive lead strip includes: Standard Oval; Standard Flat; Standard Heritage; Antique Finish; Brass Finish; and Ebony Finish.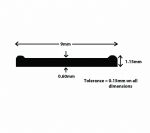 Thermoseal Group specialises in consumable components for the insulated glass and double glazing industries. Whether a sealed unit manufacturer, a window fabricator or a double glazing company, Thermoseal is the one-stop-shop for over 1,500 insulated glass sealed unit components and sealed unit manufacturing machinery. Components include: Spacer Bar and Accessories (Aluminium, Warm Edge and Steel);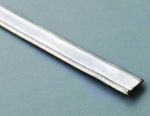 Gas filling fittings and machinery; Georgian Bar and Accessories; Molecular Sieve Desiccant; Decorative Lead, Bevels, Films and Accessories, as well as Sealants and Integrated Blinds (residential and commercial). Glass machinery includes: Gas filling machines; hot melt extruders; edge deletion machines; production lines and most other equipment for sealed unit manufacturing.
For further information about Thermoseal Group and its comprehensive range of insulated glass sealed unit components and sealed unit manufacturing machinery, call 0845 331 3950 (International Calls: 0044 121 331 3950), e-mail sales@thermosealgroup.com or visit the Group's interactive website at www.thermosealgroup.com.