Thermoseal Group, the UK's leading manufacturer of warm edge spacer, has released a new range of internal spacer bar and fittings in sizes 11.5mmx18mm and 15.5mmx18mm that will allow customers to simulate traditional multi-pane Georgian windows with Thermobar.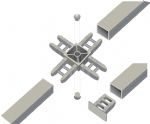 By creating a grid of Thermobar Interbar (sometimes referred to as Muntin bar), sealing it within a unit and then attaching a Georgian Surface Mount bar to the outside of the unit, customers will be able to create the appearance of a multi-paned window.
Thermobar Interbar has been developed using similar technology to Thermoseal Group's Warm Edge products, consequently the Interbar offers a superior thermal efficiency than traditional aluminium Interbar systems. Interbar fittings have also been developed alongside the new Interbar profile in order to achieve a seamless fit whilst ensuring that the colours match perfectly. The adjoining centre keys (cruciform) and edge keys have been reinforced with stabilising bars to optimize the rigidity of the unit. The bespoke centre keys also come with the option of round buffers to eliminate the chance of rattle within the unit.
Mark Hickox, Thermoseal Group's sales director had the following to say:
"We've listened to our customers' requirements for warm edge fittings that will outperform aluminium alternatives and have added Thermobar Interbar to our product range accordingly. The Interbar range is initially available in black, but we will introduce additional colours to suit our full range of Thermobar products. We now manufacture a wide range of fittings for warm edge spacer available in sizes to suite our Thermobar range including: Bespoke Corner Keys; Flexi Keys; Gas Keys and fittings; Straight Connectors; Duplex Fittings, and now Interbar. We are committed to innovating new warm edge products and to expanding our current ranges to suit our customers' needs whilst allowing greater flexibility and choice when they come to manufacture sealed units".