The New Warm Edge Spacer Bar Bending Machine from Thermoseal Group helps sealed unit manufacturers working with warm edge spacer tubes to make significant savings by dramatically reducing corner key costs.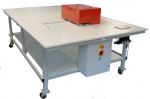 The new machine is part of a superior range of machinery available from TGE (Thermoseal Glass Equipment), and has been designed for bending PVC or PP spacer bars (such as Thermobar or Thermobar LITE) using an automatic temperature controlled bending process. The machine is also suitable for bending stainless steel, aluminium, or composite bar (such as Thermix-TX.N).
Mark Hickox, Sales Director at Thermoseal Group, says "Our New Warm Edge Spacer Bar Bending Machine is for sealed unit manufacturers looking to save costs on their insulated glass components. Although some investment is required for initial purchase, this machine can pay for itself in corner key cost savings alone.
"The Warm Edge Bending Machine is an efficient addition to any warm edge sealed unit production line as it boasts: a fully automatic bending process of 3 or 4 corners of the unit; a simple user interface with SPS control and touch screen display; quick adjustment for different spacer heights and widths; and a production speed of 20-60 seconds per frame depending on the material and speed of the operator. Delivered and installed from as little as £50k, this machine has a cycle time that is the same or better than competitors' machines that cost up to 4 times as much."