Cristec and Termiglass, two LiSEC customers with different strategies
LiSEC, the world market leader for plants and software for the processing of flat glass, supplies customers on the whole world. The comparison of two Spanish customers shows how different sales approaches within one country can be. On the one hand, Cristec is exporting, while on the other hand Termiglass relies on the supply of regional customers which are a maximum of 100 km away.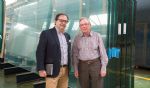 Josep Planes, Cristec's General Manager (right) relies on export: "Not Spain is the market – the world is!"
Cristec: the world is the market
The company Cristec is located in the north of Spain, about 150 km from Barcelona. Founded in 1987 the company now employs 63 people and has a yearly turnover of nearly nine million Euro – almost 40% of which is generated with laminated glasses.
Today Cristec has an export rate of almost 60%, exporting its products mainly to France, UK, Holland, Italy, US and Portugal. That used to be different only five years ago, where the company exported nearly nothing. Josep Planes, General Manager of Cristec: "At the moment it is very quiet on the Spanish market. What it boils down to is to look into the world and find opportunities for glass solutions. Not Spain is the market – the world is!" Cristec only produces to order and has no stock at all.
Cristec is already thinking about investments – the machine park should be upgraded. Planned is a jumbo insulating glass line, since large size ISO products become ever more important. Planes: "Being able to produce 12 meter IG units is definitely a target, but not this or next year, alas". Cristec is very loyal to top performing suppliers. "One more year then the seven lean years should be over. If we start investing in machines, LiSEC will be definitely part of our plan" he states. Proof to the fact that he is very satisfied with the cooperation between Cristec and LiSEC. Planes: "LiSEC has always tried to provide us with solutions which meet our requirements and needs. A really important aspect was that in that time they could offer us the intelligent bridge for laminated glass which none of the competitors could do". So Cristec invested in a PKL in 2000 and also bought a six meter cutting table which was the first of its kind sold in Spain.
Termiglass: best quality made in Spain for Spain
The second customer is located 500 km further down the south, close to Madrid: Termiglass. The company was founded in 1999 and started with LiSEC machinery and software from day one. Termiglass currently employs 85 people.
In the moment Termiglass' production capacity remains at only 50% of their capacity. Manuel Torres, Managing Director: "The situation is very tough at the Spanish market right now. Nevertheless, we will not increase our export rate, we produce the best quality made in Spain for Spain". Domestic sales make up for 95% of their turnover – customers are not more than 80-100 kilometers away. Right now, this means: difficult or 'tricky' orders and small batch orders. "We even produce orders to help out our customers, knowing that we will not earn a penny on it," Torres states.
On the question whether Termiglass feels the impact of Eastern European window producers who do export heavily, Torres replies: "No, we don't feel the impact. The renovation market we serve, requires high speed and we believe that this can only be offered if the company is close to where the demand is. As a general rule, our delivery time is two days maximum. The key to the initial success of the company was how quickly we could deliver in combination with the high quality we were able to provide."
Also Termiglass counts on an investment-friendly period to start soon and if so, they will work together with LiSEC. Torres: "We started with LiSEC, which was the right decision – and we will continue to do so. What LiSEC makes a good business partner is the fact that sales people very carefully find out the exact need of the customer and propose a solution the customer needs to grow his business – never more, which is a good feeling". Another asset of LiSEC is in the area of spare parts and service. Torres: "Equally important for us is the availability of spare parts for all of our machinery. In our case, this availability, together with a good maintenance and service, has enabled us to be working with machines of more than 17years old."
Installed LiSEC machines at Cristec and Termiglass:
Installed LiSEC machines at Cristec: several cutting tables, breakout table, intelligent bridge, intelligent warehouse, double glazing line 3.5x2 meters and 5x2.5 meters. Software: GPS.OPT, GPS.Prod, GPS.Order.
Installed LiSEC machines at Termiglass: 4 KSRs, 3 complete lines with automatic sealing machines, 2 bending machines, 4 base butyle, 3 manual sealing machines, 4 cutting tables, 1 PKL. Software: GPS.Order and GPS.Prod.