SCHOTT and MORITEX launched their new digital LED controller MLEF-A015G2DT, the newest addition to their MCV light series of illumination products for image processing applications. This new controller is the top-line product in the company's LED product line-up which employs the time-tested constant voltage control system.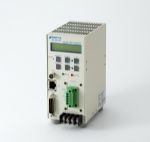 The new product is suitable for various inspection applications such as the appearance check of electronic parts and IC chips, as well as the inspection of medical and pharmaceutical products such as tablets and ampoules. The LED controller can also be used in checking bottling and canning as well as for the inspection of parts for automotive. "We are pleased to offer our customers a handy, light-weight and very versatile digital LED controller, which is not only applicable to strobe and strobe overdrive lighting for various high-speed imaging applications, but also suitable for general image processing applications with continuous lighting", says Hiroaki Tomono, Product Manager for SCHOTT Lighting and Imaging's Machine Vision business in Europe.
MLEF-A015G2DT can also control two different types of LED illumination respectively. The unit can run either on strobe or PWM (Pulse-Width Modulation) mode and is equipped with mode switching function. All modes are available in one unit and the lighting status of both types of illumination is displayed on the front LCD. Moreover, MLEF-A015G2DT is the first*1 controller in the machine vision industry to offer voltage-controlled strobe light intensity adjustment among DIN*2 rail compatible LED controllers. "This feature gives users great advantages with shorter setup time for changing test samples or imaging conditions", says Tomono.
The LED controller is equipped with interchangeable parallel and ether ports, allowing users to choose their preferred control method according to the operation environment.
Specifications:
Input: 24VDC (+/-10%)
Channel: 2
Maximum lighting load: PWM: 30W/2 channels total, Strobe: 15W/channel
Installation: DIN rail compatible with rubber feet
External control: Ether port / Parallel port
Trigger input: From 5VDC to 24VDC
Setup mode: Test strobe lighting available for trial with internal trigger
External dimensions: W65 x H140 x D104mm
Weight: 800g
*1) according to Moritex' survey / *2) German industry norm