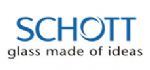 SCHOTT has received "Brand of the Century" honors from German Standards for its CERAN® brand. SCHOTT has been setting the standards for cooking comfort and quality for more than 40 years and can be considered indispensable to the kitchen with its CERAN® glass-ceramic cooktop panel.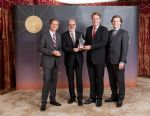 "We are delighted to receive this award. It pays tribute to the fact that SCHOTT CERAN® has succeeded in setting global standards by providing innovative, sustainable cooktop panels and thus established itself as a brand in the home appliance industry. In fact, the name CERAN® has become a synonym for glass-ceramic in the minds of consumers over the years," explains Dr. Ulrich Ackermann, member of the Corporate Management Committee at SCHOTT, who accepted the award in Berlin together with Stefan Marc Schmidt, responsible for marketing and sales on behalf of the SCHOTT Business Unit Home Tech.

This successful product from SCHOTT stands for the highest quality thanks to its constant further development. "Never stop inventing" is the philosophy that really makes the difference with the SCHOTT CERAN® brand. After all, this black glass-ceramic cooktop panel that comes from Mainz, Germany, is not only over 40 years old, but also now finds itself in the 7th generation thanks to permanent further development. Today, CERAN® has already been sold more than 110 million times all over the world.

SCHOTT set the standards once again by introducing a patented environmentally friendly manufacturing process for CERAN®. As Stefan Marc Schmidt notes, "We are the first company in the world to manufacture our black glass-ceramic without using arsenic and antimony." SCHOTT actively designs kitchen trends, for instance by developing both transparent and white glass-ceramics that come with custom color patterns and coatings, but also innovations in the area of intelligent display and illumination technology. Today, CERAN® is increasingly serving the growing induction cooker market.