Company matches amount from the employee campaign: 42,000 euros in total for the children's home / Donation handed over to the Deputy Managing Director of the Maltese Diocesan in Mainz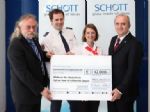 Prof. Udo Ungeheuer, Chairman of the Board of Management of SCHOTT AG, and Wolfgang Heinrich, Chairman of the General Works Council at SCHOTT AG, presented a donation check for 42,000 euros to the Deputy Managing Director of the Maltese in Mainz. The donation will go towards the Fuji no Sono children's home in Ichinoseki located in the prefecture of Iwate that the Maltese are supporting internationally as a project partner. These funds are to be used in the emergency aid effort to help those children affected by the natural disaster, but also to help rebuild the children´s home that was destroyed.
"I am very pleased to see so many SCHOTT employees respond to the joint appeal from our corporate management and works council and donate to those who are suffering in Japan," Ungeheuer noted. "Considering the great generosity we've been seeing, it was our pleasure to double this amount on behalf of SCHOTT. We are now quite optimistic that we'll be able to help alleviate the suffering for the children and youth who live in the Fuji no Sono home."
"It makes me very proud to see how our people at SCHOTT are showing solidarity with the victims of the disaster and living up to their responsibility to others," Heinrich added.
Anja Remmert, Deputy Managing Director of the Maltese Diocesan in Mainz, accepted the donation check on behalf of the children's home and expressed her deep appreciation. "On behalf of the head of our home, Sister Caelina, and all the children, I would like to express my thanks to the employees of SCHOTT and to the company itself for this generous donation. They were deeply moved when I first shared the news of this donation."
The Fuji no Sono home for children that was founded in the small town of Ichinoseki in 1963 is home to children and young people of between two and 18 years of age. The home is located in the Japanese prefecture of Iwate in the north of the main island of Honshu. The German Sister Caelina Mauer, a Franciscan nun from Heede in Emsland, runs the home and takes care of around 60 children and young people together with her team. The home for children was damaged so severely by the earthquake on March 11 that the building must be completely rebuilt.
SCHOTT has been present in Japan since 1966. Today, approximately 550 employees work for SCHOTT at four sites inside the country. In addition to its sales office in Tokyo, SCHOTT also has manufacturing sites for lighting and imaging products in Saitama City (SCHOTT Moritex) and electronic packaging in Minakuchi, near Osaka. On October 1, 2010, SCHOTT and the Osaka-based Japanese company Naigai announced that they would be forming a joint venture on manufacturing pharmaceutical packaging.
During the earthquake and tsunami disaster, none of the employees of SCHOTT or their families were harmed. A crisis management team from Mainz and Japan started working already on March 11, directly after the first severe earthquake had hit and the tsunami had taken place. The safety of its employees and their families was always the top priority. SCHOTT's buildings and facilities in Tokyo and Saitama City experienced only marginal damages.
Following the horrible natural disaster and the reactor catastrophe it caused in Fukushima, SCHOTT temporarily closed its production facility in Saitama City and its sales office in Tokyo and switched over to emergency operations mode for safety reasons. Two weeks after the earthquake, SCHOTT had resumed its normal work once again in Japan and managed to make up for the production losses that had resulted rather quickly.
SCHOTT is an international technology group with more than 125 years of experience in the areas of special glass, specialty materials and state-of-the-art technologies. In fact, SCHOTT ranks number one in the world with many of its products. The company's core markets are the household appliance, solar power, pharmaceuticals, electronics, optics, automotive and architecture industries. By supplying high-quality products and intelligent solutions, SCHOTT strives to contribute to the success of its customers and become an important part of people's lives. With manufacturing facilities and sales offices in more than 40 countries, SCHOTT Group works in close proximity to its customers. Its workforce of around 17,500 employees generated total revenue of approx. 2.9 billion euros for the 2009/2010 fiscal year. SCHOTT's technological and economic expertise is closely tied to its social and environmental responsibility and the company strongly supports the principles of sustainability. SCHOTT AG is owned by the Carl Zeiss Foundation.
SCHOTT in Japan:
SCHOTT has approx. 550 employees in Japan:
35 people work for the SCHOTT sales office in Tokyo. SCHOTT opened it as its first sales office in Asia back in 1966.
200 employees work in manufacturing in Minakuchi. Among other things, SCHOTT manufactures hermetic housings for electronic chips and thermal fuses for electronic devices for its Electronic Packaging division here. SCHOTT has been active in this area in Japan since 2000.
320 people work for SCHOTT Moritex, whose headquarters is based in Tokyo and production facilities are in Saitama City. SCHOTT became the first German company to acquire a majority share in a company listed on the Tokyo Stock Exchange by purchasing 70.8% of the shares in Moritex by way of a friendly acquisition offer made in 2008. The two firms have been working together to extend their positions as global leaders on certain types of imaging and lighting solutions since June 2007.
On October 1, 2010, SCHOTT and Naigai founded a joint venture on manufacturing pharmaceutical packaging. The new joint venture based here manufactures for the most part high-quality vials for the Japanese pharmaceutical industry out of "Fiolax" special glass tubing from SCHOTT. SCHOTT currently has 10 employees at this site.
SCHOTT has maintained a direct presence in Japan since 1966 and currently has three manufacturing sites and a sales office here.