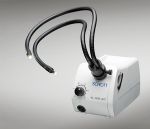 Employing state-of-the-art technology, SCHOTT has added another LED cold light source to its portfolio. The "KL 1600 LED" delivers equivalent light output to a150-watt halogen lamp, in fact 650 Lumens out of a 9 Millimeter diameter fiber bundle.
Especially during long periods of use in automated processes, this product is cost efficient due to its outstanding price/performance ratio. The brightness is improved compared to its forerunner model by 70% and therefore optimized as a standard illumination system for the requirements of all stereo microscopes. An extremely silent fan assures optimized heat management.
The LEDs have an extremely long lifetime of at least 50,000 hours. That means users do never have to change bulbs which reduces the costs of ownership and avoids service and downtime costs. Due to 80% lower energy consumption of LED light sources compared to conventional halogene light sources there is additional potential to save money.
Emitting neutral white light (approx. 5,600 K) the KL 1600 LED is DC driven. The ripple free illumination is perfect for digital imaging applications. Additionally the color temperature stays nearly constant during dimming.
Because of its ability to focus significant higher light intensities to a very small field of view, the usage of fiber optic illumination systems allow full flexibility to realize common illumination techniques and all existing inspection processes remain valid.