SCHOTT will be presenting new forms of delivery for sapphire material at LASER 2011. Customers qualified large format polished and coated panes of up to 300 mm in diameter only recently. In the future, these products will also be put to use in security applications under extreme environmental conditions.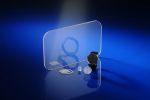 Sapphire glass is the second hardest transparent material next to diamonds. It is made of high purity aluminum oxide that is produced synthetically. This extremely scratch-proof and heat-resistant material offers high transmission in the wavelength range of 0.5 up to approx. 6.25 µm.
By introducing new forms of delivery, SCHOTT is now also expanding the range of applications. The company manufactures sapphire glass panes that are up to 300 mm in diameter. These are then individually polished and coated to meet specific customer requirements. The formats can be designed rather freely, from round to square, and feature either a curved or a flat surface. The processing quality ranges from standard to optical quality. Sapphire glass is used in high-quality watches, but also in optical, chemical, analytical, medical and security technologies.
SCHOTT is an international technology group with more than 125 years of experience in the areas of special glass, specialty materials and state-of-the-art technologies. In fact, SCHOTT ranks number one in the world with many of its products. The company's core markets are the household appliance, solar power, pharmaceuticals, electronics, optics, automotive and architecture industries. By supplying high-quality products and intelligent solutions, SCHOTT strives to contribute to the success of its customers and become an important part of people's lives. With manufacturing facilities and sales offices in more than 40 countries, SCHOTT Group works in close proximity to its customers. Its workforce of around 17,500 employees generated total revenue of approx. 2.9 billion euros for the 2009/2010 fiscal year. SCHOTT's technological and economic expertise is closely tied to its social and environmental responsibility and the company strongly supports the principles of sustainability. SCHOTT AG is owned by the Carl Zeiss Foundation.