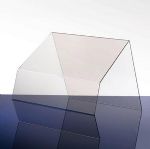 The international technology group SCHOTT will be showcasing its ROBAX® glass-ceramic fire viewing panels at this year´s Progetto Fuoco trade show. True to the SCHOTT ROBAX® motto "Fire 3.0 – the new standard is 3-dimensional," the company's stand at the exhibition will focus on geometric diversity, which offers fireplace manufacturers maximum flexibility for creating new designs. SCHOTT will be presenting their products from February 19 to 23 in Verona, in Hall 7, Stand B20.
Several thousand geometrical shapes form the basis for the huge range of 3-dimensional ROBAX® fireplace panel designs by SCHOTT. With their innovative panel shapes, the company promotes the new trend to wider and clearer views of the flames. The latest additions to their portfolio of products include angular glass-ceramic windows with up to four parallel bends or two non-parallel bends, as well as the world's first rounded 270° window. A visible fire with its dancing flames creates an ambience that lends itself to relaxing and enjoying life. That is why the size of the viewing panel can be the deciding factor when a consumer selects which fireplace to buy.
"We are constantly at work on innovations, because we believe it is important to keep providing new creative input for giving fireplaces a custom look. This is why we regularly develop new geometries, particularly with a special emphasis on 3-dimensional shapes," explains Isabel Eymael, Marketing Manager for SCHOTT ROBAX®.
Angled and curved panels can also be easily created exactly according to custom designs, thanks to the large range of tried and tested panel shapes. "This way, we meet the needs of both consumers and fireplace manufacturers: the consumer's desire for elegant 3-dimensional products with the best view of the fire and the manufacturer's need to stand out from the competition with a unique panel design," says Eymael.