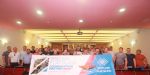 Şişecam Flat Glass, Europe's second largest and the world's fifth largest flat-glass manufacturer and a subsidiary of the global glass giant Şişecam Group, organized a meeting on June 9-12 to Montenegro-Herceg Novi, exclusively for its clients in Tatarstan.
The first of these organisations had taken place in 2015 and the rate of participation in the event was high.
Seventy-five visitors from 35 companies in the Russian market attended the meeting held during the visit to Montenegro, in which information was shared about the company's renewed brand architecture, growing product range, decorative glasses, mirrors and architectural glasses. At the meeting, Murat Atalay from Öncuoğlu+ACP Architects in Turkey made a presentation on exterior glasses and why they preferred Şişecam Flat Glass products, and Mariya Lyapunova of Russia provided information on latest trends in the use of mirrors in interior decoration. The meeting was then followed by a discussion in which the participants exchanged information on the industrial environment in general and the situation in the Russian market in particular.
After the participants were awarded acknowledgment plaques, the clients enjoyed the gala dinner that was held and expressed their satisfaction with the occasion.
About Şişecam Flat Glass
Operating under the body of Şişecam Group, the global player of the glass industry, Şişecam Flat Glass is not only the Turkish flat glass market leader, but also has the distinction of being one of the two largest producers of Europe. Carrying out its production activities in its Kırklareli, Mersin, Bursa and Ankara facilities in Turkey, as well as its facilities located in other 8 countries consisting of Bulgaria, Romania, Germany, Slovakia, Hungary, Russia, India and Egypt, Şişecam Flat Glass is the 2nd largest flat glass manufacturer in Europe and the 5th in the world.
Operating in four main product categories consisting of "essential glass" (flat glass, frosted glass, mirror, laminated glass, coated glass, glass for architectural applications), "auto glass", "energy glass" and "white goods glass", Şişecam Flat Glass serves many industries such as construction, automotive, energy, white goods, furniture and agriculture.
Meeting customers' expectations in its targeted markets, Şişecam Flat Glass carries out its activities by increasing its competitiveness with its qualified and high-quality products, state-of-the-art technology, and its efforts focused on saving energy for environment protection.
www.sisecamduzcam.com