Şişecam Glass Packaging, the fifth largest glass packaging producer of Europe and the world, has presented visitors with a broad range of products at CPhI Istanbul 2017, the largest pharmaceuticals fair in Eurasia, whose fourth edition was held between 8-10 March 2017. At the pharmaceuticals fair held at Istanbul Congress Center, Şişecam Glass Packaging has once again demonstrated its expertise in glass packaging.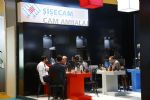 Competent in the production of both amber and white glass packaging for the pharmaceuticals industry, Şişecam Glass Packaging follows "cleanroom" practices at its Eskişehir factory, one of the requirements for the production of chemical bottles. The 2000-square-meter "clean room" is approved every year by ICCE (International Cleanroom Control and Engineering), an accredited organization, to confirm compliance with ISO Class 8 requirements. The clean room, which also meets EP (European Pharmacopoeia) standards, is used to perform microbiological analyses using samples taken from products, packaging materials, equipment and personnel. Şişecam Glass Packaging, the only producer of glass packaging in Turkey's pharmaceuticals industry, acts as a supplier for a large number of national and international companies.
CPhI Istanbul 2017, which attracted more than 200 brands from four continents and 25 countries, brought together Turkey's pharmaceuticals industry, as well as suppliers serving the industry.