SCHOTT will increase the investment in its pharmaceutical packaging production in Cordoba, Mexico, to further support the pharmaceutical industry in North and Central America with high-class packaging products. According to Andreas Reisse, Executive Vice President of SCHOTT Pharmaceutical Systems, the company has already been spending a seven-digit number in Mexico in recent years, with this figure set to increase. "This year alone we spent over 4 million euros here in Cordoba for the benefit of our customers", Reisse said during the company's 25 years anniversary celebration held together with customers and partners last week.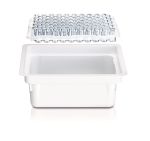 SCHOTT Celebrates 25 Years of pharmaceutical packaging production in Mexico
Every year, the site in Cordoba manufactures up to one billion vials, ampoules, and cartridges. These containers are made of specialty glass and serve the pharma industry to safely package, transport and store medications. A specialty of the site is the production of breakage resistant cartridges designed to protect very expensive or highly toxic drugs.
"The demand for high-end pharma packaging that also meets all of the international standards is steadily on the rise,' says Carlos Alberto Ortega Solís, Regional Sales Manager for Mexico and Central America. "This is where we can really help the pharma industry making a big step forward. Our intention is to keep working closely with pharma companies and contract fillers and to support their growth plans by offering just the right packaging solutions."
The story of high quality packaging in Cordoba began a quarter of a century ago, with 25 employees working in a one-shift-operation – at that time still under the name of Forma Vitrum, the predecessor company later acquired by the international technology group SCHOTT. Today, SCHOTT Mexico forms the hub for the company's activities in Central America and supplies one of the broadest portfolios of ampoules, vials and cartridges to the market.
The site in Cordoba carries out its work in line with the global standards that apply for pharmaceutical manufacturing – the so called GMP principles (Good Manufacturing Practice). These include modern systems and machines, well-trained employees and meeting the respective guidelines for quality assurance. While the regulatory pressure on the pharma industry to increase quality standards is steadily on the rise, SCHOTT Mexico looks back on a longstanding history of successful ISO (re-)certifications, approved by external auditors. These include ISO 9001, ISO 14001, and ISO 15378. In addition, the company has introduced an internal campaign to incorporate a GMP mindset, which has become part of everyday production life.
The second area where SCHOTT works closely with the industry is the development of future-oriented packaging solutions. For example, these include a ready-to-use concept for aseptic filling of medications called adaptiQ®, or pharma vials that bring the phenomenon of glass delamination under control (SCHOTT Vials DC). Industry experts will be discussing these and other innovations and trends during a symposium that accompanies the 25 year anniversary celebration of the plant last week.