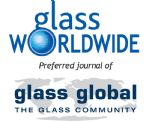 Preferred journal of Glass Global, the March/April issue of Glass Worldwide is now available, including an extensive series of exclusive interviews with key industry figureheads.
To download free selected articles and to receive the full paper and digital copies, visit www.glassworldwide.co.uk or email subs@glassworldwide.co.uk
Including highlights such as regional focuses on China, Iran and Japan in addition to the normal blend of technical articles, profiles, news and event coverage, this issue features the following broad cross-section of content to assist with all areas of production and processing:
PERSONALITY PROFILE:
Jean-Pierre Floris, Chairman and CEO of Verallia, exclusively discusses his career highlights and the challenges and opportunities facing the global glass packaging giant.
FOCUS ON CHINA:
Flat glass market report, China Glass 2017 preview and Chinese language supplement.
PERSONALITY PROFILE:
Boonsak Stitmannaithum - Senior Vice President of Operations at Thai Glass Industries and Thai Malaya Glass - spoke to official AFGM journal, Glass Worldwide, about his company's operations and expansion programme.
FOCUS ON JAPAN:
• Toyo Glass: Factory Spotlight including details on product developments aimed at supporting ambitious market expansion.
• AGC Asahi Glass: Daikichi Arai, Japan Division General Manager, spoke exclusively to Glass Worldwide about the leading flat glassmaker's expectations for the future.
• Daiichi Glass: Factory Spotlight covering this independent producer's evolution and present day activities.
• Japanese packaging materials review: Statistical data from the Japan Glass Bottle Association.
FOCUS ON IRAN:
• Market overview detailing flat and hollow glass developments in this expanding sector.
TECHNOLOGY TOPICS:
Technical articles covering coating, forming, melting, plant utilities, process control, raw materials and ware handling, plus ATIV and GlassTrend papers about advanced heat recovery and furnace regenerators.
ESMA GLASS DECORATION 2017-18
In advance of the GlassPrint 2017 conference in November (www.glassprint.org), this unique 24-page supplement provides a guide to advanced decoration of all types of glass.
ASSOCIATIONS:
FEVE discuss the findings of their latest European glass packaging Life Cycle Assessment with preferred journal, Glass Worldwide.
EVENTS:
Previews of the Glass Focus Awards 2017 and GPD 2017, plus a comprehensively updated 2017 events calendar.
Please note new postal address for Glass Worldwide:
Chameleon Business Media Ltd, 22 Hartfield Road, Forest Row, East Sussex RH18 5DY, UK.