The largest-ever GlassPrint conference and exhibition was successfully staged last month and presented the latest decoration trends and developments to the international audience that gathered in Düsseldorf, Germany.
Staged for the fifth time and sponsored by Glass Global, the record attendance of approximately 200 glassmakers, glass decorators, end-users and suppliers was 20% higher than at GlassPrint 2011 and 50% higher than at GlassPrint 2009. Attendees travelled from 27 different countries, not only from throughout mainland Europe and United Kingdom but also from long distance destinations such as China, India, Peru, Singapore, South Africa, Sri Lanka and USA.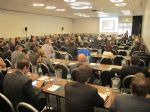 EXPANDED CONFERENCE PROGRAMME
The two-day conference programme was also larger than ever before, offering delegates 16 technical conference presentations that covered the latest advanced technologies for printing onto architectural, automotive and hollow glass with digital and screen applications.
Four additional keynote addresses were made, covering the flat and hollow sectors. Stefan Jaenecke, President of FEVE and CEO of Verallia Deutschland, looked at current and future challenges and opportunities for the container glass industry, while Bertrand Cazes, Secretary General of Glass for Europe, presented 'Sustainable buildings: the new 'big thing. What does it mean for building glass products?'. Later, Dr Johann Overath, Director General of Bundesverband Glasindustrie e.V., examined the current situation and trends in the German glass industry and an update of glasstec 2014 was provided by Birgit Horn, project director at Messe Düsseldorf.
Technical experts working for various companies in the glass decoration sector then delivered am extensive series of presentations that demonstrated processes and ideas to add extra value to the end product.
Anyone who missed GlassPrint 2013 and would benefit from viewing the presentations should contact sales@glassworldwide.co.uk to learn how to purchase the download code.
SOLD-OUT EXHIBITION
The conference programme was supported by intervals dedicated to the accompanying sold-out tabletop exhibition area, and at the end of the first day delegates benefited from networking with their peers and suppliers during an evening dinner. Exhibitors who displayed the latest developments in inks, pre-press technology, printing equipment and supplies included: Cerinnov, Dr Hönle, Durst, Eastech Digital Technology, Encres Dubuit, ESMA, Fermac, FERRO, Glass Global, Glass Worldwide, glasstec / Messe Düsseldorf, Global Inkjet Systems, Grünig-Interscreen, InPrint, ISIMAT, ISRA Vision, KIWO (Kissel + Wolf), Landgraf, MacDermid Autotype, Machines Dubuit, MACtac, Marabu, Natgraph, OMSO, Ormo Print / University of Munich, PPG, RUCO, Saati, Sefar, SIAK Transfers, SignTronic, Specialist Printing Worldwide, Sun Chemical, Tecno 5, TILL, Tiflex and WIFAC.
SPONSORS AND ORGANISERS
GlassPrint was jointly organised by Chameleon Business Media, publisher of Glass Worldwide and Specialist Printing Worldwide magazines, and ESMA, a European association for specialist printing manufacturers of screen, digital and flexo technology. As well as being supported by Glass Global, in recognition of its importance in the global glass event calendar GlassPrint 2013 was also powered by glasstec and sponsored by Deutsche Glastechnische Gesellschaft (DGG), glassglobal.com, GPD, SGCDpro and the SGIA.
After confirming its status as Europe's leading event for glass decoration, the organisers are already planning to repeat GlassPrint in 2015; details on the location and dates will appear in future issues of Glass Worldwide and you can register your interest at www.glassprint.org. The March/April 2014 issue of Glass Worldwide will include the Annual ESMA Glass Publication 2014, a unique guide to glass decoration. To subscribe, visit www.glassworldwide.co.uk
FURTHER INFORMATION:
tel: + 44 1342 315032
web: www.glassprint.org
email: sales@glassworldwide.co.uk