Preferred journal of Glass Global, the May/June issue of Glass Worldwide is now available.
In addition to the latest industry news, over 30 articles include exclusive interviews with industry figureheads, the latest technology innovations, topical market analysis, event coverage and opinions from the flat, hollow and speciality glass manufacturing and processing communities throughout the world.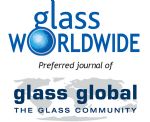 ON THE SPOT:
Steve Severs, Managing Director of Saint-Gobain Glass Industry UK, discusses his new role as President of British Glass and the Brexit influencing market conditions facing members.
FOCUS TURKEY:
Bastürk Cam: Muhammed Yalcınkaya, General Manager, explains how the fledgling operation has performed since production began at Malatya, as well as the company's second phase expansion plans.
Sisecam Group: Vice President and CEO, Professor Ahmet Kirman discusses the diversified glassmaking group's current performance and his strategies for delivering further positive results in the future.
Market report: Turkey set to produce more glass.
FACTORY SPOTLIGHT:
Krzysztof Staniek, President of CP Glass, details the Polish and Indian glass container operations of the CANPACK Group subsidiary.
SPOTLIGHT: Society of Glass Technology
New President, Stuart Hakes, explains the SGT's continued relevance to young glassmaking professionals and students, plus his goals for the next two years while in office.

FOCUS CHINA:
Flat glass market report: Professor Peng Shou analyses the opportunities for China's flat glass industry.
SGD Pharma Asia Pacific's General Manager, Frédéric Barbier, discusses the recent €7 million investment into the company's Zhanjiang plant in China.
Shandong Penghao Glass: The fast path to success in insulated glass manufacture.
Xinfuxing Float Glass Co Ltd: Grenzebach's Werner Rührer details three additional lines currently under construction for the local float glass producer.
China Glass 2019 Preview + Chinese language supplement.
PERSONALITY PROFILE:
Dr Arun K Varshneya talks about his highly fulfilling career, both as an educator at the New York State College of Ceramics at Alfred University and as an entrepreneur.
WARE HANDLING:
Buyers Guide devoted to advances in ware handling at the hot end, the cold end, in the warehouse and at the premises of the glass industry's customers.
TECHNOLOGY:
A series of technical articles covering forming and quality control.
SUPPLIER FOCUSES:
Topical spotlights on the activities of CelSian, Eurotherm, Glaston and Selas.
EVENTS:

Reviews and previews of the GlassTrend tour, DGG Annual Meeting, GPD Finland, and the Furnace Solutions Conference, as well as a comprehensively updated diary of forthcoming events in 2019-2020.