The international technology group SCHOTT offers a broad range of sealing glasses for use in solid oxide fuel cells (SOFCs). These glass solders help to hermetically seal cells and stacks that consist of metallic and ceramic compounds. They are used with nearly all types of fuel cells and provide significant advantages, especially for high-temperature SOFCs, due to their high resistance to heat. Strontium- and barium-free sealing glasses have now been added to the product line. These can be applied to metal alloys that contain a share of chromium and are thus also suited for use in low- and medium-temperature fuel cells. Sealing glass stands up to the harsh environmental conditions and high operating temperatures inside fuel cells and thus contributes to their durability. SCHOTT has been developing glass and glass-ceramic sealing glasses for use in fuel cell technology for 25 years and ranks as a world-leading manufacturer of glass solders. The company will be presenting its materials at the Asian SOFC Symposium in Busan, South Korea, from September 21 to 24, 2014.
Thanks to its broad portfolio of sealing glasses, SCHOTT can offer SOFC manufacturers just the right glass solder for nearly all temperature ranges, material combinations, and fuel cell designs. In addition, solder glasses can be developed to meet customer-specific requirements. In fact, customers can request the material not only in the usual form of glass powder, but also as sintered preforms, glass pastes, or tape. "We have expanded our standard glass series to cover all common metal alloys. Furthermore, together with our customers, we develop new types of glasses that meet their special requirements. In addition, we continuously research new types of glasses in order to be able to offer compatible glass solders for the many different metal alloys, most recently strontium- and barium-free glasses, for example," explains Dr. Jens Suffner, Technical Sales Manager at SCHOTT Electronic Packaging in Landshut.
SCHOTT's sealing glass hermetically seals and joins the individual stacks or cells without any tension in both planar and tubular fuel cells. High temperatures and humidity put a significant strain on the materials the cells are made of. Compared to other sealing options, using sealing glasses as an insulation material provides an advantage in that the glasses remain sealed gas-tight over the long term, even when exposed to high temperatures and thermal cycles. Special glass also offers good electrical insulation properties and is chemically stable even under reducing and oxidizing conditions. To achieve high efficiency of the fuel cell and the longest possible lifespan, the glass solder must be made to match as closely as possible the thermal expansion coefficients of the metals and ceramics to be joined in the stack of the fuel cell.
SCHOTT has unique know-how, particularly when it comes to joining glass with metal and ceramics for reliable and durable seals. The company has ranked among the world's leading manufacturers of specialty glass for 130 years, and its Electronic Packaging division has more than 70 years of experience in manufacturing hermetically sealed housings. The development and production of application-specific sealing and soldering glasses represents the key to achieving a long-term seal.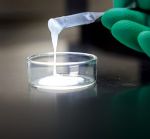 Sealing glass paste from SCHOTT allows for the components in fuel cells to be hermetically sealed. Source: SCHOTT