Linde GmbH, Linde Gas Division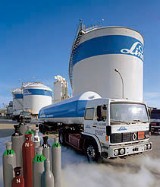 One of the most important gas suppliers world-wide Linde Gas is the first choice of over 1.5 million customers in over 50 countries – customers that benefit from our gas application technology and specialist services as well as our wide range of hardware. Linde Gas offers high-level, technological quality.
We are positioned to develop and implement individual solutions around the world. Innovative technologies transformed into practicable solutions are the driving force behind the progress of our day-to-day business. In our research and development, ideas are converted into new technologies that help our customers secure competitive advantages and open new market opportunities. Our expertise, innovation and creativity are placed at your disposal. Your future begins today. With Linde Gas.
---
---
联系方式
| | |
| --- | --- |
| 姓名 | 先生 Joachim von Scheele |
| 职位 | Market Segment Glass Industry |
| 电子邮箱 | Email Contact |
| | |
| --- | --- |
| 姓名 | 先生 Christoph Laumen |
| 职位 | Head of Application Technology Hub EMEA |
| 电话号码 | 0049 89 31001 5212 |
| 传真 | 0049 89 31001 5315 |
| 电子邮箱 | Email Contact |
| | |
| --- | --- |
| 姓名 | 先生 Matthias Görisch |
| 职位 | Application Engineer Metallurgy Glass & Ceramics |
| 电话号码 | 0049 911 4238 175 |
| 传真 | 0049 911 4238 179 |
| 电子邮箱 | Email Contact |
---
---
产品
Industrial gas, oxygen, technical gas etc.
oxygen-supply systems
oxyfuel burner systems for glass furnaces
small burners for glass treatment and forming
glass mould coating
crypton and xenon gas for insulation glass
oxy-fuel
oxy fuel boosting
oxy boosting
all oxy fuel
Glass Melting
Using oxygen to optimise glass melting processes and comply with increasingly strict legislation
melting glass with oxyfuel
Using oxygen instead of air in glass combustion processes offers a number of benefits. It eliminates the nitrogen ballast and therefore increases flame temperatures. Oxygen-enriched solutions also raise the concentration of CO2 and H2O in the vicinity of the flame. And since these gases are mainly responsible for thermal radiation, they make gas jets more efficient.
There are a variety of ways to increase combustion efficiency when melting glass. These include:
• All-oxyfuel
• Oxyfuel boosting
• Oxygen enrichment/lancing.
We offer a range of oxygen-based combustion solutions. These innovative technologies bring a host of benefits, including:
• Reduced emissions/CO2 footprint
• Energy savings
• Increased productivity
• Improved glass quality
• Elimination of nitrogen ballast
• Improved heat transfer.
Burner Technologies
Deployed correctly, burners help control heat input more accurately, improve glass circulation and enhance batch melting. You can combine our burners with oxygen lances to increase your melting capacity further. We offer a range of burners tailored to individual applications.
Supporting Services
We offer fast, efficient delivery and support services to keep your furnace running with virtually no interruptions and help prolong its service life. Our oxyfuel service also enables you to continue production during regenerator or recuperator repairs by eliminating the need for a heat recovery device.
---
---
资讯
Filetype
Filesize
PDF
242672
Online Glass Engineering (OGE)
Process analysis in glass manufacturing.
download
PDF
342249
Improved glass quality and higher output
Mould surface-coating with CARBOFLAM
login
PDF
126327
Maximum flexibility and performance
With COROX®-I and II oxy-fuel burners
login
PDF
208584
Optimal glass treatment results
Gas pre-mixing with HYDROPOX®
login
PDF
551719
ECOVAR®– Standard on-site solutions
Gas technology that works for you - Linde Gas is in the business of making a difference in everything we do.
login
PDF
279696
Oxy-fuel boosting for maximum productivity
Enhanced heat transfer with COROX®-CGM
login
PDF
1863631
A step ahead in glass
Linde Gas – high standards combined with deep expertise - Getting ahead through innovation.
login
PDF
292753
Introduction - European Glass Seminar
Agenda
login
PDF
898951
Refractory considerations for oxy-fuel furnaces
European Glass Seminar, A User's Guide to Oxy-Fuel Furnace Crown Refractory Selection by John LeBlanc
login
PDF
1530920
Hot Spot Boosting of End Fired Container Furnaces
European Glass Seminar, Background on use of oxygen on glass tanks / installations / fundamentals
login
PDF
2806183
CGM™ Advanced Glass Melting
European Glass Seminar, Paper by Mr. Hans Mahrenholtz
login
PDF
2736509
Oxy Fuel Boosting of Sideport Furnaces
European Glass Seminar, Paper by Dr. Tom Barrow
login
PDF
3019791
CGM Modelling
European Glass Seminar, Paper by Claas Heymann
login
PDF
2144632
Reinforcement Fibreglass Technology
European Glass Seminar, Paper by Dick Marshall CGM's Melting in Non-Boron Compositions
login
PDF
274464
Financial Considerations for Oxy-Fuel Melting in the Glass Industry
European Glass Seminar, Paper by Mr.Dick Marshall
login
PDF
2123738
ADSOSS®-O Containerized Oxygen VPSA Plants for the Glass Industry
European Glass Seminar, Paper by Mr. Michael Barrasso
login
PDF
1955043
Increased Productivity of Glass Forming Processes with HYDROPOX® and CARBOFLAM®
European Glass Seminar, Paper from Mr. Rainer Mieth, held by Mr. Mathias Görisch
login
PDF
2008914
Online Glass Engineering and Furnace Control System
European Glass Seminar, Paper by Mr. Nanhui Qi, glassglobal.com/OGIS GmbH
login
PDF
1624089
HYFINE™ Bubbling with Hydrogen and Oxygen
European Glass Seminar, Paper by Mr. Andrew (Andy) Richardson
login
PDF
334327
Furnace upgrades for CO2 and fuel savings
Article published in Glassworldwide May/June 2021
download
PDF
625286
Reducing energy consumption and CO2 reduction in fibreglass furnaces
Article published in Glassworldwide Sep/Oct 2021
download
---
---