Another decisive step forwards for the Vietnamese firm's investment plans in the My-Xuan industrial park. Two SACMI-Gaiotto robots for the manufacture of high-end one-piece WCs successfully installed and tested
Viglacera, Vietnam's leading manufacturer of glass, sanitaryware and tiles, continues, with SACMI, to invest in raising the capacity of its manufacturing facilities in the south of the country. Once again, this latest order is for the new manufacturing facility in the My-Xuan industrial park, in Ba Ria-Vung Tau province, not far from Ho-Chi-Minh City.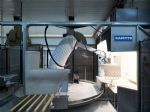 The arrival of SACMI Riedhammer kilns - equipped with complete solutions for automated kiln car movement - in My-Xuan has now been followed by the installation of SACMI-Gaiotto robotized glazing lines. Complete automation of the glazing department represents a major step for Viglacera, which has designed the new plant to produce over 750,000 pieces while focusing on quality, efficiency and latest-generation technology.
The heart of this latest order consists of two robotised work centres made up of GA 2000 and GA-OL robots. Designed to complement each other, the two work centres will let the company develop advanced glazing recipes in self-learning mode – thanks to the advanced functions of the GA 2000 robot – and then transfer them to the GA-OL robot. The robots are mounted on 4-position carousels equipped with belts for automated piece loading and unloading. This is an important feature as it allows for optimised control of large piece glazing and handling tasks thanks to perfect stability of loading and unloading.
Moreover, the customer has chosen the Gaiotto kit with the mass control system, which governs the quantity of glaze delivered, and the GDA 80. The latter - the latest glazing gem from SACMI - is an innovative needleless spray gun that requires no maintenance, boosts the spray delivery rate and lowers running costs. Moreover, both glazing booths are equipped with dry filters that allow near-total recovery of overspray, with advantages for the environment (fewer residues to be disposed of) and lower consumption of raw material.
The solution has already been tested successfully on Viglacera's flagship one-piece WC, a product that requires high-quality spraying performance and specific solutions to prevent piece deformation or breakage. Hence the company's decision to go for SACMI automation solutions, which are specially designed to optimise the manufacture of such articles.